Rent a Jeep in Cancun car rental prices 2009
Rent a car in Playa del Carmen Riviera Maya
Chichen itza with car , Xcaret with car Mexico car rental
RESERVE ONLINE CLICK HERE
or fill the form below to quote

Car Model

Low Season

High Season

day

week

day

week

Dodge Atos std./ac

$45.00

$270.00

$54.00

$324.00

Nissan Tsuru std./ac

$45.00

$270.00

$54.00

$324.00

GM Chevy Monza std./ac

$45.00

$270.00

$54.00

$324.00

VW Pointer std./ac

$45.00

$270.00

$54.00

$324.00

Nissan Tsuru aut./ac

$45.00

$270.00

$54.00

$324.00

GM Chevy Monza aut./ac

$45.00

$270.00

$54.00

$324.00

VW Jetta aut./ac

$58.00

$352.00

$71.00

$426.00

Dodge Stratus aut./ac

$58.00

$352.00

$71.00

$426.00

Jeep Wrangler automatic /4 door

$71.00

$427.00

$105.00

$630.00

Jeep Liberty aut./ac

$97.00

$585.00

$134.00

$804.00

Ford Windstar aut./ac

$82.00

$495.00

$124.00

$744.00

Chrysler Voyager aut./ac

$85.00

$513.00

$124.00

$744.00

GM Suburban Lux. Edition aut./ac

$145.00

$877.50

$250.00

$1500.00

Ford Club Wagon std./ac

$131.00

$785.50

$141.00

$846.00

GM Express Van aut./ac (15 pax)

$180.00

$1,080.00

$200.00

$1,200.00

BMW X5 std/ac

$150.00

$900.00

$325.00

$1,950.00

Hummer H3 aut./ac

$168.00

$1,012.00

$350.00

$2,100.00

Hummer H2 aut./ac

$206.00

$1,237.00

$425.00

$2,526.00

Mercedes ML500 aut./ac (7 pax)

$243.00

$1,462.00

$499.00

$2,994.00
Rates are subject to change without prior notice.
Reservations are subject to availability.
Additional drivers, please add $3.50 per day.
Rates are in USD
IVA (federal tax is included)
Please send your requirement including the size of the vehicle, number of days,
date and time of arrival so that we can quote you our lowest guaranteed rate.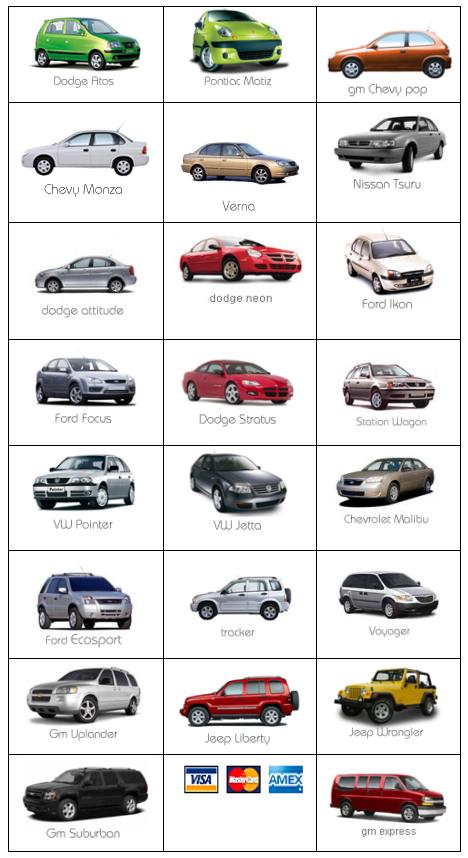 A valid passport is required to enter Mexico. If you are a US or Canadian citizen an original birth certificate is also acceptable with another photo ID. If you are traveling with children and you are divorced be sure to verify the requirements with the airline prior to arriving to the airport. Normally if both parents are not present a letter from the other parent must accompany them to Mexico. When arriving to Mexico you first will pass through immigration. You will be given a Tourist card to be filled out by the airline. Each family member must have an individual Tourist. Card. An immigration agent will then stamp your Tourist Card and keep one copy. A copy then will be returned to you which must be presented upon your departure from Mexico. It is extremely important that you do not lose your Tourist Card. Do not carry with you the document. Keep your tourist card in a safe deposit box in your hotel room.
In order to maintain the improvements to the Mexican Airports the visitors tax has been reinstated. The tax is approximately $ 15.00 usd or $ 20.00 cd. This fee must be paid upon your departure. If you have purchased a package from a tour operator be sure to ask if the departure tax or visitors tax is included.
The currency in Mexico is the Peso. The currency bills are $20, $ 50, $ 100, $ 200 , 500 and $ 1000 pesos and coins are $ 1.00 , $ 2.00, $ 5.00 and $ 10.00 pesos.
For your rent we accept:

CHICANNA

COTZPOP

UXMAL

CHICHEN ITZA

Read unbiased opinions about hotels and vacations at TripAdvisor.